One Day in Tallinn, Estonia Itinerary
One day in Tallinn, Estonia is definitely enough to see the best part of it; The Old Town. However, if you really like to deep dive into the history, Estonian culture, food or shopping, I would recommend staying in Tallinn for longer.
*We use ads so we can pay for our travels and continue to bring you free travel advice. We also use affiliate links.
If you make a purchase through them, we may receive a small commission at no cost to you.
Last summer we did a road trip from Finland to Estonia. While we were there we visited several mansions, castles and cities. But before touring Estonia, we stopped in the capital city Tallinn for a day. We wanted to spend some time in Tallinn Old Town and see all the historical sites.
As many of you know, I grew up in Finland, only a short ferry ride away from Tallinn. It is one of the most popular vacation destinations to Finns, and we visited there often. Now, I was finally able to take my kids to see it as well.
Tallinn Old Town is said to be the best preserved medieval city in Northern Europe and has been a UNESCO World Heritage Site since 1997. If you only have one day to be in Tallinn, you should definitely spend it in Old Town. It's a unique place!
Most of the structures in Tallinn Old Town were built between the 13th and 16th centuries. At that time the town had two main areas; the upper town which was at Toompea Hill and the lower town around Toompea Castle.
Mostly merchants and artisans where living in the lower town while the upper town has always been home to the Estonian upper class. People living there were the aristocracy and officials, and even today the Estonian parliament sits in Toompea Castle.
IS A DAY TRIP TO TALLINN WORTH IT?
A day trip trip to Tallinn is absolutely worth it! We Finns do them all the time since it's very easy and quick to get there from Helsinki. You can definitely walk through the whole Tallinn Old Town in a day, visit some of its historical sites and enjoy the local cuisine.
The Old Town is the heart of Tallinn and for many tourist it is the only thing they see in Estonia. There is so much more to Tallinn and to Estonia itself, but if you only have a day, then I would spend it in Tallinn Old Town.
THINGS TO DO IN TALLINN IN ONE DAY
Walk through Tallinn Old Town
Viru Gate is a perfect place to start your tour in Tallinn Old Town. These towers that built in the 14th century are now the symbol of Vanalinn (Old Town).
Originally the structure was much bigger and more complex, and the main gate was shaped like a square. Most of the towers and walls were unfortunately disassembled in the 1880s, and this is what is left of them.
Parts of Tallinn's city wall date back all the way to the 13th century. It was built as a defence system for the city. Over a mile of the wall is still standing, and it's 20 defence towers make the Tallinn Old Town look like something straight from a fairytale.
You can also climb up on the wall from the Nunna tower and walk on top of it. They do charge a small entrance fee, but you will have a great view to both Toompea and Tower's Square.
After that, you can head to Toompea Castle at Toompea Hill. It was first built by the German Knights of the Sword between 1227-29. Toompea Castle is interesting because it does looks like a medieval castle except for the Baroque façade added between 1767-73.
The castle has always been the center of power in Estonia. Today it is used by the Estonian parliament. You can also visit inside the castle on a free guided tour.
See the town hall and town hall square
The Town Hall (Tallinna raekoda) and the Town Hall Square (Raekoja plats) are one of the most visited places in Tallinn Old Town. The Town Hall Square was originally called the Forum. First mentionings about it are from the year 1313. After that it was called Market and Vana Turg, until it got its current name.
It is said, that the world's first Christmas tree was in this square in 1441. Therefore, there can only be one place to have the traditional Christmas Market in Tallinn. And it comes with a huge tree of course. Town Hall Square also hosts many other events during the year, and during the summer months many cafeterias around it set up outdoor patios.
The Town Hall building was completed in its current form in 1404, but its first mention is from 1322. It is very special because it is the only gothic style town hall in Europe that has been preserved. It is also the oldest town hall in the whole of the baltic. The Town Hall hosts many different events such as concerts, and it is open for visitors during the summer months.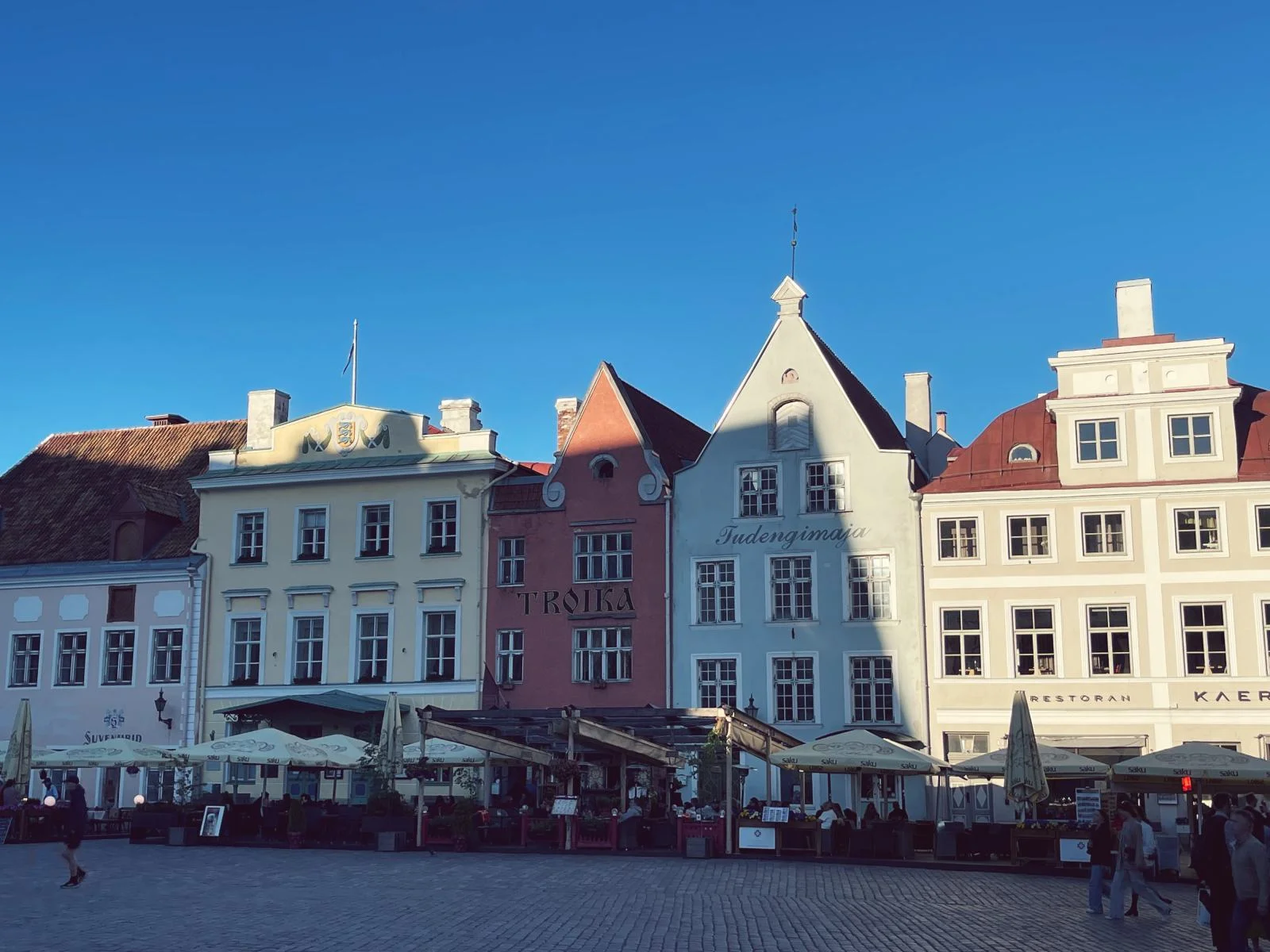 Go underground in the Tallinn Bastion Passages
The Kiek in de Kök Fortification Museum and its underground tunnels are an exciting and unique place to visit. The museum was built into an old artillery tower which dates back to 1475-83.
It showcases the defence system that was built for Tallinn, battles at Tallinn and the development of the city. Other artillery towers; Neitsyttorn, Tallitorn and Veräjätorn are also part of the museum.
While you visit the museum you can choose to purchase a ticket to either or both the museum and the Bastion Passages (Bastion Tunnels). These underground tunnels were once part of Tallinn's defence system. They were built in the 17th and 18th centuries.
For me this visit to the Tallinn underground was one of the most interesting things we did on our trip. It definitely takes you back in time and you learn a lot about the city. Here is our review of the Bastion Tunnels in Tallinn.
Find the little red house
One of the cutest houses in Tallinn Old Town must be the Little Red House. It is Old Town's smallest building and is located in the shortest street of Tallinn.
The house was built in 1656. Inside the house is a store called Oma Asi. It is located right next to the Church of the Holy Spirit.
Visit churches
There are many beautiful churches in Tallinn. The most known ones are probably the Alexander Nevsky Cathedral and Olav's Church.
Olav's Church (Oleviste kirik) can be seen from afar and was captured in many of our pictures without me even noticing. The first mentioning of this church is from 1267, but is believed to have been finalised in 1330. Olav's Church has suffered from many fires started by lightning, but it has always been repaired.
It is open for visitors during the summer months. A visit to the church is free, but there is a small fee for climbing up to the bell tower.
The Alexander Nevsky Cathedral has an interesting history. The construction started in 1894 when Estonia was still part of the tsarist Russian empire.
Since Estonia lived through a period of Russification, for many Estonians this church became a symbol of oppression. Religion was a big part of the Russification and therefore they needed their own church. The cathedral was finally finished in 1900.
Later, in 1924 Estonians decided to demolish the church, but it was never carried through. Today it is Estonia's main Russian Orthodox cathedral.
Take home some flowers
As long as I can remember, there has always been a street full of colourful flower shops in front of the Viru Gate. The Tallinn Flower Market has 14 little shops with beautiful cut flowers.
If you are visiting someone or just going straight back home, why not get a fresh bouquet? At least we Finns often do that while visiting Tallinn as the flowers here are considerably cheaper than in Finland.
The flower market is open year around.
Go shopping
For years Estonia has been known as a shopping paradise for people coming from Scandinavian countries owing to its cheap prices.
Although Estonia is not as cheap as it used to be anymore, you can still find great shops and shopping malls there. The biggest ones are Ülemiste-keskus (Suur-Sõjamäe 4), T1 Mall of Tallinn (Peterburi tee 2) and Viru Keskus (Viru väljak 4/6). There are also several good smaller ones.
Enjoy some local foods and drinks
There are so many amazing restaurants in Tallinn to try out. Not only in Tallinn Old Town, but also elsewhere in the city. In general, restaurants in Old Town are more expensive and more touristy than outside of it.
You can find anything from friendly pubs to fine dining, and nice cafeterias in Tallinn. During the high season and on weekends, it might be difficult to get a table from the most popular restaurants, so a reservation is recommended.
If you would like to try something local or just want something to munch with your beer, try the garlic bread. It is dark rye bread fried crispy in garlic butter and served with a dip. You can find it in almost every restaurant. So yummy!
Estonian cuisine is influenced by Scandinavia, Germany and Russia. Potatoes, meat and fish are the main ingredients. There are over 300,000 Russians living in the city, so you are for sure guaranteed to find some authentic Russian food.
Many visiting Tallinn Old Town are eager to have a medieval experience also when it comes to dinner. Old Hansa is great for that.
Where to stay in Tallinn?
If you are only visiting for one day but staying the night, then why not stay in the picturesque Tallinn Old Town. There are many lovely hotels inside the medieval walls. I would recommend either Hestia Hotel Barons Old Town or Hotel Telegraaf.
On our last visit we stayed at Original Sokos Hotel Viru. They are a very short walk from the Old Town and they have great family rooms.
❊❊❊
Tallinn is just beautiful! I would say that if you only have one day, concentrate on Old Town and leave the rest of the city for your next visit. Yes, it is a little bit touristy and the summer months can be crowded, but it's worth it.
There are also many nice hotels inside Old Town or within walking distance, so you can get the most out of your visit. Tallinn also has a great public transportation system. We really enjoyed our stay and will definitely go back again soon!
If you are interested in exploring Estonia further, we recommend checking out the city of Tartu.
Have you been to Tallinn? What was the most memorable place you visited?